He is the guy that will surely have a good time in love.
With a very outgoing personality, it's not surprising at all when you find him has myriad of friends.
When it comes to dating and relationships, he is quite playful and flirty. However, it doesn't mean there is no serious romantic side in him.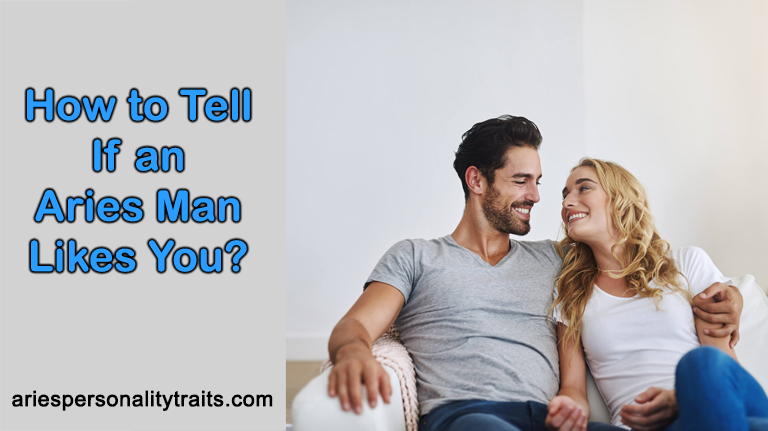 Are you a woman who feels curious of a male Arian in love?
Wonder whether he is just having fun or he really falls for you?
So, how to tell if an Aries man likes you?
You are lucky today!
Continue reading to figure out some obvious signs helping you understand his deepest heart.
When an Aries Man is Interested in You
1. He shows a lot of affections
The male Arian will open his heart when the right person shows up in his life.
You can tell that he likes you if he showers you with devotion and affection. He craves to let you know how he feels towards you physically. Rather than telling you, he will express his love through actions.
How Aries man shows his love? He will hold your hand, kiss you softly on the forehead, or stroke your hair frequently.
2. He introduces you to his family and friends
If an Aries man likes you, he will certainly bring you home.
He is not the guy that will take any woman home. Thus, if he suddenly asks you to hang out with him and his family/friends, you are loved. Once he shares his beloved family and best friends, it means he wants to spend the rest of his life with you.
Likewise, he may ask to meet your family or friends.
This man has a big curiosity about where you come from and what type of people you are surrounded by. He longs for a connection with your family or friend circle.
What if Aries man not interested? Learn reasons he hates you now!
3. He is protective
When this man is in love, he will ensure to keep you safe from anything harmful. It doesn't mean he will appear next to you every moment, but his protective side is displayed very obviously in a romantic relationship.
4. He pays full attention on you
When an Aries is interested in someone, he is full of surprises.
He would love to learn entire things about you no matter how quirky they are, including your habits or rituals. He will slowly learn to adapt them all if he really wants to stick with you for a long term of course.
He always makes sure you feel cared and needed most of the time.
If you wish to be with a partner who caters his lady love, look no further than an Aries man. He seems to be stubborn sometimes, but he loves intensely and fiercely.
How to Make an Aries Man Chase You?
Born with a dominant personality, he is known for his leadership. Whatever he does, he is considered as a natural-born leader because of his confidence, adventurousness, outspokenness, as well as his love a challenge.
That explains why this guy easily finds success in life.
Of course Aries man has negative traits (impulsive, stubborn, etc.), but it cannot define his true person in a romance.
As an adventurous guy, he expects his love partner to be able to keep up with his lifestyle.
Don't know which type of woman he most prefers?
He finds that women who're open, honest, and intelligent are attractive; besides, he cannot resist the lady having an innately feminine sense.
Maybe getting his attention and making him obsessed are difficult; nonetheless, he will stay with you forever once his heart is in your hand.
Below are 3 best tips of attracting your Aries man:
1. Play hard to get
Born under Aries zodiac sign, this guy loves a challenge.
If he realizes that you fall for him too quickly, he will soon lose his interest in you. Instead, playing hard to get is probably a good way to keep the Aries keen.
Don't make yourself easily accessible; this will turn on his impassionedness of pursuing you. Get ready for constant phone calls, texts, and gifts once he has special feelings for you.
2. Tell him your goals and dreams
Do you know what attracts an Aries man?
He has a huge admiration for women who are ambitious.
Due to that, he would love if you can openly talk about your future plans with him. Whatever your life goal is, he will listen to everything attentively. Be sincere and honest and he definitely wants to learn more about you.
3. Challenge him
Again, you are falling in love with a man who is truly competitive by nature.
Will an Aries man ever commit?
The answer is yes if you enable to challenge him as well as dare to play with his huge ego. In case he is into you, he will get excited with the challenge and unhesitatingly play the same game to prove that your provocation is wrong.
Have any question for the topic: How to tell if an Aries man likes you?
If you want to discover more about Aries man in love, then click the "Aries Man" category and find out more interesting articles.