Did you know?
Adolf Hitler and Charlie Chaplin both shared an interesting common thing.
What is it?
They were born in the same year, same month, and even same week – Chaplin's date of birth and Hitler's were only 4 days apart.
Adolf Hitler – 20 April 1889
Charlie Chaplin – 16 April 1889
Chaplin imitated Hitler in his 1940 comedy-drama film – The Great Dictator. This was the very first true sound film of the British comedian.
How coincident!
But here's the kicker:
Astrologically, this means these two were under the Aries sun sign and greatly influenced by Aries eminent personalities.
As you can see, Aries-born individuals have strong, powerful characteristics, and Hitler and Chaplin are the most typical illustrations of this claim.
What makes Arians stand out from the crowd?
Today, via this article, let's dig into Aries prominent personality traits for the answer.
Overview of Aries Personalities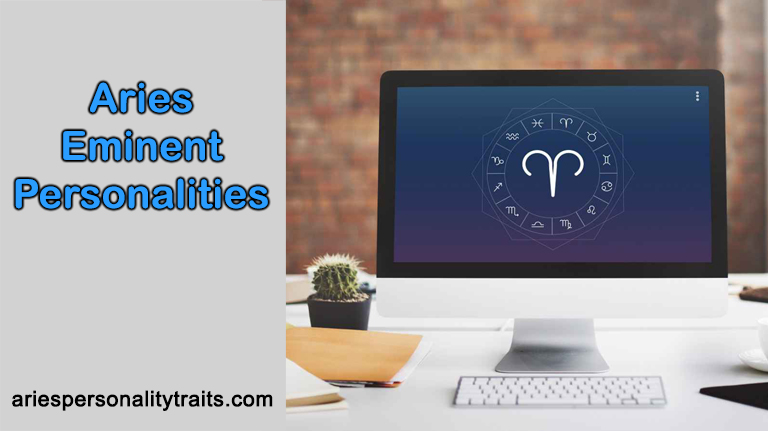 You might be wondering:
"What are the reasons making an Aries a born leader?"
Firstly, those whose date of birth ranges from March 21 to April 20 are Aries.
Ruled by a Fire sign and represented by a Ram, they are pretty courageous, independent, enthusiastic and optimistic; plus, they have a very strong willpower as well.
They, in any situation, will show their courage and determination.
Without any hesitation, they tend to confront with obstacles or difficulties rather than eluding them. Hence, Aries people make excellent leaders and entertainers.
Since Aries is the sign of "self", no wonder Arians are gifted a fierce personality.
No one can beat them when it comes to self-orientation. In addition, an Aries individual is vibrant, exciting, impressionable and talkative.
Sometimes, they are quite straight-forward. Don't be surprised if receiving any brutally blunt comment from them – Aries have a tendency to say whatever pops into their head.
Here are some famous Aries personalities:
Courageous

Energetic

Independent

Optimistic

Enterprising
Jealous

Vain

Impulsive

Impatient

Egoistic
Aries Positive Traits
Aries possesses a great, unbearable energy; that's why they often look for speed and action in everything they do.
Due to the influence of Mars, the Aries' ruler planet, these people are very active.
They are also ambitious. Their desire to come first as well as excel in different fields is undeniable. Lots of Aries individuals, by virtue of their ambition, can walk on the path of become a successful leader in life easily.
Many find most people who belong to the Aries are special because of an aura of excitement around them.
When preparing a project, they will give all their best to show their true capacities in work so that everyone in the office can admit their talents.
Besides, in a team, they know how to appreciate a person rightly and don't mind fighting for the underdogs; even they have to pay a heavy price.
Aries Negative Traits
When things get a little out of hand, Aries personalities will turn negative.
Because of the obsession for speed, they usually take up many issues and then just can't stop running around; this affects their organizational acumen.
Things get worse when they lose patience but not over yet, they continue expressing their frustration on others.
In jobs, the domination of Aries people is often applied to those who have the lower status. However, their dominant personality, at certain times, may works against them.
If you are one of their employees, do not try to argue with them. Wait for a suitable moment to express your opinions.
Additionally, their possessive behavior would deter others from being with them.
More details, consider 7 bad traits of an Aries if you care.
Aries Quick Facts
| | WHAT TO KNOW ABOUT ARIES? |
| --- | --- |
| Zodiac Sign Symbol | The Ram |
| Energy | Yang |
| Planet Ruler | The Mars |
| Best Qualities | Greatly adventurous, and a charming personality |
| Weaknesses | Impulsive, jealous, vain, egoistic and impatient |
| Best Matches | Leo, Sagittarius, Taurus, Aquarius |
| Worst Matches | Gemini, Scorpio, Cancer, Pisces |
| Suitable Profession | Politicians, Entrepreneurs or Entertainers |
| Health Issues | Headache, brain, depression or migraine |
| Favorable Months | January, February, March, April, May, July, October |
| Unfavorable Months | June, August, September, November, December |
| Lucky Day | Tuesday |
| Lucky Numbers | 9, 18, 27, 36, 45, 54, 63, 81, 90 |
| Lucky Color | |
| Birthstone | Diamond or Zircon |
| Famous Aries People | Charlie Chaplin, Thomas Jefferson, Leonardo da Vinci, Jackie Chan, Emma Watson, Lady Gaga |
Top 10 Reasons Aries are The Ultimate Leader
Is aries a natural born leader or just a follower.
Fiery and rambunctious, Aries is the first sign of the zodiac and also craves to come first at pretty much everything.
Guess what is the key phrase for the Aries born?
Interestingly enough, that is "I am".
Living under the powerful impact of their passionate ruling planet, Mars, an Aries has incredible drive.
They never give up, and nothing can stop them from achieving what they yearn for – this is one of reasons proving why they are very successful in life.
An Arian is fiery, passionate, energetic, curious, daring and such a great person to be with.
Here are 10 reasons why they are always an epic leader:
1. Ambitious
2. Born Leaders
3. Confident
4. Straight-forward and honest
5. Curious
6. Optimistic
7. Loyal
8. Adventurous
9. Independent
10. Enterprising
People born under this sign dream big; in fact, they are considered as the sucker for success, truthfully.
The God of small things is certainly not the God of Aries.
They are goal-oriented and highly ambitious. Whatever they do, it must end with the victory. Once deciding to follow something, they won't quit easily and will make it all the way till it comes true.
On every project they take on, they always want to complete it fast yet impressively.
Do not expect an Aries to give up – They are the winner, not the quitter.
Admit it, Aries are born leaders!
They are not meant to be part of the crowd; instead, they must be the one leading the crowd.
As the first zodiac sign, Aries has all essential qualities of a leader. They're independent, enthusiastic, courageous, outgoing and always eager for action.
Since they are natural born pioneers, they are likely to undertake the leadership spontaneously and find it unpleasant to take direction from others.
Rather than the follower, they prefer to be the trendsetter.
Their magnetic personality and confident attitude play big roles in helping Aries induce others to stick to their leading and reach all the objectives with ease.
What usually leads Aries to success?
That is their confident and fearless character!
No matter what obstacle they are facing to, they will always come up with efficient ways to solve it. Also, whatever situation they are in, they will own it in a moment.
Why they are so confident?
Maybe because they truly believe in their inner selves! Thanks to this quality, Aries interaction with the society, romance and professional field is hugely empowered.
Their confidence blazes up on stage, explaining many world-class entertainers are Arians.
In every life aspect, things have to be either black or white to the Aries born.
When mentioning Aries, you might think of their straight-forward, directness attitude, right? The truth is, they are the first person you should run to if looking for an honest opinion.
They will approach all the circumstances, whether in private or business life, bluntly.
Never beat around the bush, they expect people to go straight to the point as they do.
Aries never stop learning as knowledge is power.
Many Arians have one common thing; that's, an unending curiosity.
They love learning new knowledge via reading. Yup, they read a lot – when choosing the book, they often go with what interests them or what is not really popular.
For example, they, most of the time, read books that no one likes to talk about. They will feel satiate if being the first one discovering something interesting.
Following the crowd is never in the Aries' to-do-list.
They find that music, writers, great people, subjects, thoughts and whichever that can give them inspiration as well as provide much knowledge are intriguing.
Aries individuals are born with a pioneering spirit and childlike candor believing that everything will come to fruition.
Always full of energy, not surprising at all they are impossibly optimistic.
Once they've focused on something, there is no chance that anyone can change it.
No matter what happens in their life, Aries will never give up and try to see the brighter side of a problem. Their positive thinking is one of the most outstanding qualities making them the ultimate boss.
If you are in need of a little faith boost, count on your Aries friend.
Lots of people express their admiration for an Arian's vivacity, energy and eagerness.
Not only the leader in work, Aries persons are also the head at home.
They value freedom; therefore, it might take quite a long time for them to settling down.
Nevertheless, once they decide to make their commitment to someone, they will be truly devoted to their core.
Extremely loyal, responsible and loving, Aries are considered as perfect parents and ideal partners.
In any situation, they won't mind standing up for those they love most.
For an Aries-born, life is an incredible experience and never gets boring.
They love their life because it teaches them a lot of new things. Whenever life brings them challenges, they will accept it well.
Arians are spontaneous and fun-loving people. These two traits make them a real adventurer. They are versatile and will never say no to everything that come their way.
Looking for a friend to start a new business with, Aries is the best option.
Fiercely independent, these people are go-getters. Being born under the first zodiac sign gives them the upbeat and magnetic personality.
They believe, "Nothing venture, nothing win".
In addition, Aries will do anything to protect their freedom or what providing them freedom. Also, they hope others could respect what they are guarding too.
An Aries is very enterprising, as they dare to achieve things they believe.
Both Aries men and women do not waste much time in analyzing how the consequences can be.
In order to follow their dreams and goals, they are even willing to take a gamble.
Aries individuals are extremely intelligent and have a natural, sharp wit. They are not the type of people taking others' order well; hence, you often find them planning their own projects.
Popular Individuals with Aries Sun Sign
Famous Aries Woman
Famous Aries Man
Famous Aries Rappers
Famous Black Aries
Emma Watson – an independent and determined aries woman.
How are Aries woman?
Possessing dynamic personality traits, Aries women are fearless, eager, charismatic, energetic, independent, enthusiastic and definitely true leaders.
They are the dominant females who would kick-start in everything and lead from the front.
Check out some well-known Aries female celebrities in the following box:
1. Reese Witherspoon
Date of Birth: March 22, 1976
Profession: Actress, producer
2. Lady Gaga
Date of Birth: March 28, 1986
Profession: Singer, song-writer
3. Emma Watson
Date of Birth: April 15, 1990
Profession: Actress, model, activist
4. Julia Stiles
Date of Birth: March 28, 1981
Profession: Actress
5. Mariah Carey
Date of Birth: March 27, 1970
Profession: Singer
6. Miranda Kerr
Date of Birth: April 20, 1983
Profession: Model
7. Dianna Ross
Date of Birth: March 26, 1944
Profession: Singer
8. Victoria Beckham
Date of Birth: April 17, 1974
Profession: Singer, model, fashion designer
9. Kristen Stewart
Date of Birth: April 9, 1990
Profession: Actress
10. Jennifer Garner
Date of Birth: April 17, 1972
Profession: Actress, film producer
Talking about the bright side of an Aries woman:
She is courageous, independent and usually shows a go-getter attitude in the real life.
This female has big dreams and never stops searching for new challenges.
Most of the times, men can't handle her independent nature. Yet, her independence is a necessary part of everything in her life.
Then what Aries woman personality do you need to know to win her heart?
What makes an Aries woman gain others' admiration?
She can survive in the toughest of situations. Even if she has to go through gruesome experiences, she's still able to make a noteworthy comeback.
How about her dark side?
The Aries female seems quite bossy and demanding.
Also, one significant trademark of this woman is possessiveness. Therefore, if you are dating an Aries, then do not laugh or talk to other ladies in front of her sight.
Interestingly, while possessiveness is one of her characteristic traits, an Aries lady doesn't like the idea of being possessed.
She has a huge love for freedom and is surely a rule-breaker by nature.
There is no chance for her being a rule-follower.
Aries women also have many problems with her erratic mood swings and temperamental attitude. For instance, the Arian female can be very happy at one moment, but then she suddenly turns into a raging lioness and becomes violent.
James Franco – a typical aries guy: playful yet intense.
What to know about Aries personality male?
In comparison with others, men born under Aries zodiac sign are the most determined, outgoing and confident individuals.
They often display numerous characteristics, both good and bad, such as fearless, energetic, honest, charismatic, magnetic, impulsive, stubborn and aggressive.
Truthfully, the male Arians are born leaders.
Bold, independent, confident and spontaneous, they usually look for challenges and confrontation.
For them, life is an adventure. These guys are the most appropriate definition of masculinity.
Have a look at some famous Aries male celebrities in the following.
1. Eddie Murphy
Date of Birth: April 3, 1961
Profession: Producer, director, actor
2. Robert Downey Jr.
Date of Birth: April 4, 1965
Profession: Actor, producer
3. James Franco
Date of Birth: April 19, 1978
Profession: Actor, writer, teacher
4. Elton John
Date of Birth: March 25, 1947
Profession: Singer
5. Russell Crowe
Date of Birth: April 7, 1964
Profession: Actor, producer
6. Jackie Chan
Date of Birth: April 7, 1954
Profession: Actor, martial artist, director
7. Paul Rudd
Date of Birth: April 6, 1969
Profession: Actor, comedian, producer
8. Steven Tyler
Date of Birth: March 26, 1948
Profession: Singer, song-writer, musician
9. Tim Curry
Date of Birth: April 19, 1946
Profession: Actor, musician
10. Ryan Lewis
Date of Birth: March 25, 1988
Profession: Hip-hop artist, DJ
Now, let's discuss about the bright side of an Aries male.
This guy is full of energy, lively and intelligent. He hates the dull, gloomy as well as monotonous atmosphere in life. Don't be surprised if seeing an Aries running around to cheer up everyone around.
Life filled with adventure and challenges is definitely a worth living place for him.
No one can catch up with his energy level, in fact.
Another important characteristic feature of Aries man is, whether it's about time or money, he is quite generous.
Move to the dark side:
An Aries guy is extremely short-tempered and violent.
He can turn from the affectionate, loving, caring and kind partner to the coldest person that you are unable to imagine.
In addition, the guy of this sun sign often has issues involving to consistency.
Not over yet, his mood swings plus demanding and controlling nature are terrible. Also, if anything does not meet his needs, he gets irritated.
In order to deal with your Aries guy, you must satisfy his ego – love what he likes and hate what he dislikes.
Is your most favorite rapper aries – have a check!.
Feel curious about rappers who are Aries? Find out below:
In this list, I give you several names of outstanding, popular rappers born under the Aries astrology sign:
Kid Ink (April 1, 1986)
Real name: Brian Todd Collins
Big Sean (March 25, 1988)
Real name: Sean Michael Leonard Anderson
Ty Dollar $ign (April 13, 1985)
Real name: Tyrone William Griffin Jr.
Da Brat (April 14, 1974)
Real name: Shawntae Harris
Yung Joc (April 2, 1983)
Real name: Jasiel Amon Robinson
Pharrell Williams – an aries and a talented music producer.
As you can see, there are lots of famous Aries that I hardly narrow down your most favorite ones.
However, in this section, I'll go with black celebrities belonging to Aries.
An Aries's motto: "Be strong minded and always think that the impossible is possible."
It's time to check out these awesome famous black Aries who can be your amazing role models.
Pharrell Williams (April 5, 1973)
This prolific music producer has worked and collaborated with Jay-Z, Justin Timberlake, Gwen Stefani and more. His 2013 hit 'Happy' helped him have one Academy Award nomination. Now, he is a coach on The Voice.
Akon (April 16, 1973)
He is a rapper, singer, song-writer, and record producer. After released the first album 'Trouble', he soon gained the popularity in 2004 with the song 'Locked up'. Recently, he has put his foot in the business field.
Dej Loaf (April 8, 1991)
As a singer, rapper and song-writer, Dej Loaf received a huge recognition from audiences and many awards with her song 'Try Me'. Started the career in 2011, most of her released singles have achieved high ranks on the US music charts.
Adrian Peterson (March 21, 1985)
This guy is a professional football player. His career path began with a very traumatic childhood. After a long time playing under the Minnesota Vikings, he suffered a leg injury. Despite of that, he has still gained a lot of successes. In 2017, he ended his contract with the Minnesota Vikings and decided to play with New Orleans Saints.
Conclusion
Understand the Aries meaning yet?
Again, Aries is the first sign of the zodiac – and that is also how Aries-born individuals consider themselves: first and self.
They prefer living an adventurous life as well as becoming the public's attention.
Since they are natural born leaders, making things happen is these folks' ultimate goal. For sure, they are not afraid of trying new aspects.
Due to their energy and dynamism, Aries people are very enthusiastic yet impulsive when doing something. They never think before act or speak; to them, taking the initiative is always better than waiting.
Sadly, underneath a strong, powerful personality is insecurity.
The desire for success sometimes accidentally makes Aries put too much pressure on themselves.
No one really realizes this fear of an Aries person because of their natural enthusiasm and optimism.